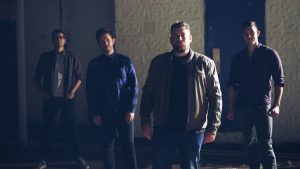 The Late Aprils are a polished alt-rock band that officially jumped onto the scene last year. Made up of four guys from Hertfordshire, The Late Aprils are building a solid signature sound that's cemented in big riffs and absolutely soaring, anthemic choruses. 2021 sees the third single from the group, a fearless exploration of the nature of anxiety, titled Hurricane.
While finding their sound in 2019, The Late Aprils knew authenticity would be at the core of their sound. In addition, their music focuses on culturally relevant, social upheavals that represent their true lived experiences through pure rock melody.
"Hurricane screams to everyone who feels they have to be 'OK' when they're struggling inside. Lockdowns have pushed us even further inside our own heads and away from those we love; it's a hard time and the song calls that out. It's OK to not be OK – even when you're in the eye of the storm."
The expressive Hurricane single is another proud moment for the group. It shows unwavering determination to produce music through the COVID pandemic. Having recorded their parts separately, the cohesive nature of the band still shines through. Centred around a colossal inner battle, the track delivers a cry for help when your anxiety is overwhelmingly stuck inside your head.