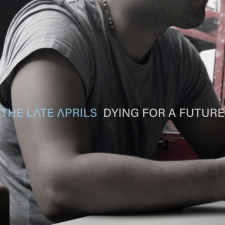 Hertford based alt-rock band 'The Late Aprils' will release their second single on all major platforms on 8th January.
Titled Dying For A Future, it's a pulsating, breathless, rollercoaster of a rock song, just like the past year it encapsulates. With the pandemic, job insecurity and even climate crisis weighing on people's minds, the lyrics reflect the range of emotions many of us have experienced going into the new year: anxiety, apathy and anticipation.
Defined by its soaring, anthemic chorus and explosive hooks, the track is representative of The Late Aprils' signature sound, which will likely appeal to fans of Queens of the Stone Age, Lower Than Atlantis and Royal Blood.
Like the band's first single What Remains, the track's instrumentals and vocals were recorded entirely at home, with lockdown restrictions compelling the band to convert their bedrooms and basements into temporary studios.
Lead guitarist Greg Simmonds comments: "This song was born out of an idea I had years ago, but things only clicked into place with new, relevant lyrics. The whole band channelled their own experiences in 2020 to collaborate on writing."
Dying For A Future will go live on Spotify, Apple Music, Deezer and many more platforms on 8th January 2021. To keep up with the band's latest news, follow us on Instagram at @TheLateAprils.