Lauren – Vocals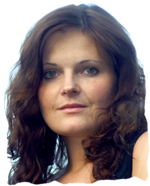 Lauren's musical pursuits began when she was 4′ 3″, in her primary school years with a fluke rendition of 'The White Cliffs of Dover' in which she remembers silencing an audience of two hundred parents (for good or bad?) and rather enjoying it. She determinedly moved forward in pursuit of the more disciplined world of classical music and theatre, attending lessons, sitting exams and singing in chamber concerts, choirs and local competitions.
Deciding funerals weren't her thing, she resolved to hatch the chrysalis in a quest to join a band where Andi was her first pioneer. At first she was one of three, she then became one of five and amidst the comings and goings of other nomads, two friends settled for a comfortable pair of less noise and disturbance yet impetus enough to be heard by all who will listen. Lauren sought a dream and in the process got lost and found a better one in which inspired creativity and loyalty is rich and in abundance.
Andi – Guitar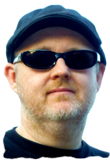 It all started with Andi as a teenager listening to discarded sixties' 45s on his friend Daves's mum's stereogram. First he and Dave would try to work out the tunes on a toothless piano. Then, fumbling to learn the guitar, they began to concoct songs of their own.
Going their separate ways though college, they briefly came back together, along with Alex and Steve, to form a band named after a Terry Gilliam film. But the lure of the bright lights was too great for Andi and he moved away towards London – only getting as far as Watford – to start a family life with Mand.
Years past doing this and that – a project with some RCM students, a virtual band CD, a stint with a sixties covers band – then Andi moved to Cambridgeshire and started up The Erstwhile Collective. First with Mark, another virual band CD ensued, then in the flesh with acquaintences and visitors from the interweb. Over time only one, Lauren, remained and the rest, as they say, is The Claves.
Other Important People
'Don't Walk Away' also features Claire Smyth (backing vocals),Harry Fiske (bass) and Andy Farrow (drums).
www.theclaves.co.uk