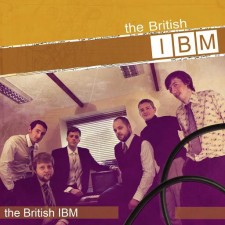 Offering a nimble mesh of indie rock and vintage computing, Cambridge-based trio The British IBM officially launched in 2012, commandeered by singer/songwriter & retro enthusiast Aidy, alongside musical comrades David on bass and Paul on percussion. In the two years before, the outfit toured and performed as Aidy, prior to its rebranding.
The group's 2012 debut self-titled album—produced with Neil "Bugs" Rogers—features single "Animal," accompanied by a well-received animated video clip lensed by Ridertoons' Jose Cubero. Second single and title track "the British IBM" garnered acclaim with its use in the trailer for 2014 documentary film "From Bedrooms to Billions," which outlines the story of the British video games industry from 1979 to today.
Aidy is off and running in 2015, with preparation of the British IBM's upcoming project, "Psychopaths Dream in Black and White," which will include an array of overdubs, including a contribution from cellist Anna Scott, as well as bassoon and sitar. It is being recorded at indie facility Half Ton Studios.
He previously released multiple solo albums, including Aidy's renowned 2010 "Song A Week" project, where a new single was released every Friday for a solid year. The result of that effort was the 53-track opus "Song A Week."