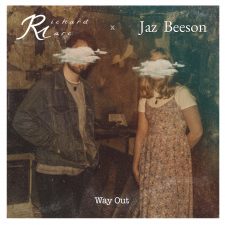 Richard grew up surrounded by music, it's in his blood, it came to him like learning to talk. Writing songs just seemed like the next logical step.
He grew up in Halifax and always wanted to be a musician.  He started busking at the age of 12 and gigging at 16. Then spending 3 years studying songwriting at ICMP in London where he made the decision to write with other artists instead of for himself.  Since then he's been working with a variety of artists in different genres including Lauren Alex Hooper and Sophie Frear who've both had Unsigned Chart entries before.
Richard Marc has teamed up with Jaz Beeson for the third single of his EP. This northern duo have created the perfect dark-summer feel with Way Out, which will be released on the 1st July.
The song starts off in a relaxed feel with the vocal the main focus, leading to a catchy chorus that is sure to be stuck in your head for the rest of the day. The tension rises through the bridge, building to a climax and a satisfying release. The blend of the male and female vocal creates amazing, dynamic harmonies, and the blend of guitars, piano, and synths creates a unique alt- pop vibe.