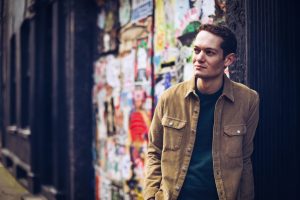 Matthew Shepherd's debut studio album, Top of the Tree, was released in June 2015 and took only a day to break into the iTunes Top 100 Singer/Songwriter Album Chart. He followed it up a year later with an
acoustic EP, The Sea, which was included in Acoustic Magazine's Top 10 Best New Music in September 201
Continuing with his themes of the happiness and heartbreak of love, his most recent album release 'Waiting up at Night' (2018) solidified him as one of the most exciting new singer-songwriters on the UK acoustic music scene.
This May (2020), Matthew is set to release a new wave of music – recorded between September 2019 and February 2020 at Buff Records in London Fields. Once again teaming up with engineer & producer Jack Longman, the first single 'Turns to You' further demonstrates his warm, intimate and delicate style – 'I think this time I went into the studio with a lot more experience under my belt. 'Less is more' was the key throughout'.
All the more impressive that Matthew continues to release new music and relentlessly perform whilst
working full time doing his 9-5. When he takes a break, you'll find him in an independent coffee shop, a
home-from home – 'Performing and recording music gets me through the week. Finding the time to write songs is difficult, especially when my job is as busy as it is. I can spend a couple of hours or a lunch break to jot down song ideas and lyrics. I could happily spend a whole day with a mug of coffee, writing
lyrics/whatever comes to mind – I think the coffee shop-vibe has certainly influenced this new project'.
As well as touring nationally to promote each release, Matthew has played at some of the UK's most
prestigious venues including Ronnie Scott's, The Troubadour, The Bedford and has opened for the likes of Jess Morgan and Charlie Dore. His festival appearances include Woodfest, Aldeburgh Festival and Folk on the Dock in Liverpool and he also has two European tours under his belt.
When speaking about the current climate, Matthew says 'I have been going back and forth in my mind
whether now is the right time to be releasing new music or not…but what I've learnt over the last few weeks is that music definitely brings people together. I think it's about time I let these new songs loose'. Matthew will be donating any profits made from 'Turns to You' to Haven House Children's Hospice.