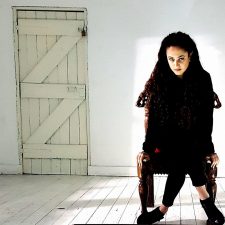 Hailing from Buckinghamshire, England – Lydia Singer has been turning heads within the music industry with her distinctive pop-vocals and songwriting skills since she was a young child. She wrote her first songs 'Higher', 'More Than Yesterday' and 'Wreckless' at the age of 13, and this coming of age singer-songwriter is also a gifted pianist. She has collaborated with some of the UK's finest musical talent such as Cleo Laine, Charles Forskett, Steve Salvari and Rob Davies (who famously has worked with Kylie Minogue).
At the age of 15 Lydia has already performed in some of the most iconic London music venues including Ronnie Scott's (where she performed at age 13), Notting Hill Arts Club, Cargo Shoreditch and Box Park Croydon.
Reflecting on her success, Lydia says "When I put my mind to something, I tend to find I can do it, especially when it comes to music"- proving that self belief is key!
Despite still being a student, Lydia is quickly rising through the ranks, and is frequently booked for paid performances at festivals and unique events across the UK.
Born in a small village in Milton Keynes in 2001, and has always been strong both academically and in her performance. Inspired by her obsession with Disney as a child, Lydia entered and won her first singing competition at the age of nine and has continued to wow audiences with her infectious talent and charm ever since.
She looks to the likes of current commercial stars Charlie Puth and Ella Eyre for inspiration, and Lydia's overall broad taste in music is reflected in her incredible vocal range. Lydia has been compared vocally to the likes of Camilla Cabello, Ariana Grande and Jessie J. As a fan of pop, jazz, musical theatre and classical genres, Lydia Singer is not one to be pigeon holed, when it comes to challenging herself musically.
Lydia Singer's debut EP 'Just Being 15' – released on 28th July – is a mixture of ballads and commercial pop songs and has already received an abundance of praise from her dedicated fan-base. She has independently released the EP – along with four videos – and has already achieved a Top 10 (PBB) and two Top 20 Club Chart hits.
Emotive tracks such as 'More Than Yesterday' contract nicely against beat-heavy 'Wreckless' and 'Push Bang Bang' with this EP overall reflecting all aspects of being an adolescent in today's world.
www.facebook.com/lydiasingerhq