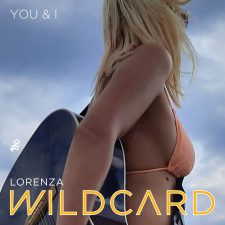 Hi, my name is Lorenza Wildcard and this…is my journey!
I discovered my talent during lockdown. Following the sudden and intense rupture of my relationship, I decided to put my feelings on paper as a way to process my emotional turmoil. With courage and intuition, I transformed my raw emotions into the honest lyrics and melody of "YOU & I". Just twenty-four hours after writing my first song and recording my vocals accompanied by guitar on my mobile phone, I was approached by producer Ettore della Campa who loved the song and saw the potential in my heartfelt vocal style. Together we decided to head into the studio to record it professionally and that lead to the beautiful recording and arrangements that can be heard on the finished track.
My message is simple: "I wanted to tell my story and share what I went through in the hope that it would reach, help and empower other women who are in a similar situation. I have learnt that I am not alone and a breakup is not going to shake the foundations of who I am, because I am many things and not just a partner. I have grabbed my chances with both hands and I have cut my own path in search of my very own realization." "This whole experience started by chance and it has been great fun, but I have made it my choice to be where I am today by being true to myself and working hard to get better, and perhaps that also brought me luck." – Lorenza Wildcard.
If you are curious about my choice of stage name you should know I picked it for its double meaning. In a game of cards, a wildcard is a card that can have any value, suit, colour, or other property in a game at the discretion of the player holding it. To me it encapsulates the concept of adapting, evolving and moving. A wildcard in athletics is an opportunity to enter a sports competition without having to take part in qualifying matches or be ranked at a particular level. To me, this is about grabbing your chances!
www.facebook.com/lorenzawildcard