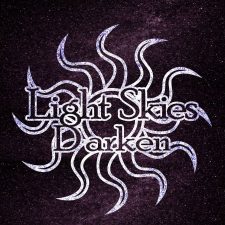 After years of playing in various bands, covering a variety of musical genres, Reubes, Lizzy and Dan decided to put Light Skies Darken together to write and play music in a style they had been inspired by and brought up on. With a shared love for classic and progressive rock music, Light Skies Darken take influence from the number of bands that have successfully fused these two genres together such as Toto, Mr Big, It Bites and Winger.
Meet the band:
Reubes – Reubes has spent many years refining his drumming style and sound and has worked/ works within a number of East Anglian bands including Pink Floyd tribute, The Pure Floyd Show. Aside from this he is also a session player, most notably offering his services on the Dreamscape EP by Leeds based Prog rock/ metal band Pacifica. Outside of drumming he is also a keen song writer, guitarist and recording engineer (he recorded, mixed and mastered the debut EP by Light Skies Darken).
Lizzy – Lizzy is a popular solo artist in addition to fronting Light Skies Darken as she often appears at events/ online performing her own material and various covers. Her impressive vocal ability stems from inspirations such as Glen Hughes (who is also a singing bassist) and Lizzy Hale. She has been a vocalist in several Norfolk bands over the last few years although this is the first time she has been able to demonstrate her bass playing abilities.
Dan – Dan has appeared in various line ups over the years including work in tribute bands and theater although is perhaps most known for his online, YouTube covers. He has an impressive following for his videos with views into the two hundred thousand mark for one in particular although still manages to dedicate a lot of time to writing, practicing and performing with Light Skies Darken. He is a very versatile player with a number of inspirations and these various musical flavors contribute towards the distinct Light Skies Darken sound.