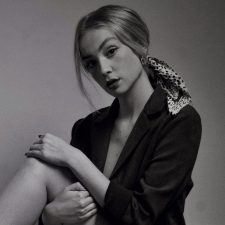 The exquisite vocal tone of Welsh born performer Ffion Rebecca became widely recognised at a young age following her appearance in Teen Star in 2014 when she came in the top 5 artists out of 10,000 applicants. The Cambridgeshire based teen is a talented songwriter with a legion of songs to her name.

Her Debut EP "Love Away From Home" shot into the Blues charts at No.2 gaining attention from radio stations across the UK and Europe. Itunes were sure to lock onto this and featured her in the new music homepage for a staggering 5 months!

Ffion nominated for a "Best Female Solo" at the NMG awards 2017 and won the 2018, 18 and under award for her single 'Devil', which ws also number one in the NMG charts for 6 weeks. She has also been a featured artist on BBC introducing Cambridgeshire many times with, many of her originals.
" Music has always been my happy pill. I love any kind of music and have been fortunate to have the opportunity to share my journey this far with so many. Now I am older, music is my escape (cliché i know but its true) its a way to vent all kinds of emotion into something beautiful. Music is my way of expressing myself. Its a more beautiful way of talking, letting you connect with people from all walks of life, but allowing you to speak to each one personally through the lyrics.

It is my way of communicating, telling stories or simply just sharing a feeling."
– Ffion Rebecca
in 2018 Ffion has performed ahead of big names like Sam Smith, Brittany Spears and Florence and the machine in November.
2019 will be one of the biggest years yet for Ffion. Performing at many big name gigs like, Strawberry fair, Main stage of home grown and Bestival. Ffion also got through to the final on 2019's Cambridge band competition.
Constantly writing and creating she hopes to release and album in the near future. Ffion continues to take people on a journey through feeling and emotion, a journey of truth, a journey of love…… a journey with Contemporary R&B/Blue Eyed Soul.