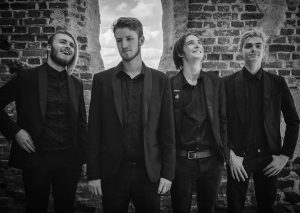 Basement Strippers are a 4-piece Alternative Rock band from Bedfordshire, UK. They are formed of Jamie Gilman-Lewis (lead vocals, bass guitar), Bayley McNamee (guitar, backing vocals), William Gilman-Lewis (keyboards and synths) and Lucas Hammond (drums).
After forming in late 2016, The band released their debut EP, The Exotic Show in the summer of 2017. The EP's main single We Are Not Afraid was featured in motion picture "Dead Squad".
The first part of 2018 for Basement Strippers has been spent building up their reputation gigging around the Bedfordshire and Hertfordshire area, however things stepped up for them in June when the band signed to York-based independent label Lucky Boy Records. Following almost immediately from the signing, they released their second EP, Echo Chamber. Featuring the lead single and stomping political anthem Blindfold, Echo Chamber is a collection of catchy, powerful and enticing rock songs.
With an exciting future ahead of them, Basement Strippers are storming into the East of England music scene with attitude, style and showmanship of the highest calibre.
www.facebook.com/basementstrip