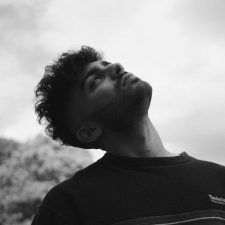 Alfie Indra is a 23-year-old musician from Ed Sheeran's neighbouring Suffolk town of Debenham. Now based in Norwich and working with notorious YouTuber JaackMaate, Indra is riding the crest of a creative wave after his own YouTube channel has gained over 37k subscribers and 2 million views since July through his 80s remixes of YouTuber diss tracks. After a six-month break from official original releases, the much-teased 'All My Friends Are Depressed' (produced by George Fitzgibbon of Fuzzy Sun) has finally arrived, after he posted a short clip of it in January to much excitement from his fans.
Citing Blossoms and Parcels as two of his biggest overall musical influences, on his latest release Indra has said:
"After talking about my struggles with OCD and intrusive thoughts on JaackMaate's Happy Hour podcast, I had hundreds of messages from a mix friends and other podcast listeners saying that they had been struggling too. It made me realise that everyone has some sort of battle going on in their head, but the majority of people don't talk about it, so everybody ends up feeling like an outcast. Writing 'All My Friends Are Depressed' was my way of processing this by opening up a blunt and honest conversation about it."
Indra has received strong radio backing from Fresh on the Net's Tom Robinson, Co-Op Radio and BBC Introducing, spot plays on BBC Radio 2 and 6 Music, and Spotify playlist backing from AlexRainbird and 2012 X Factor Poland winner Dawid Podsiadlo. With a sold-out hometown show at Ipswich's Smokehouse and an appearance on Latitude's Huw Stephens-curated Lake Stage already behind him, Indra looks set to build on his 1.5 Million Spotify streams with more music to follow in early 2021, after spending 2020 mostly writing and building his aforementioned YouTube channel.